Answers to Your Perplexing Yarn Questions!
Here's a quick rundown of our different yarn weights, plies and fiber blends.
YARN WEIGHT: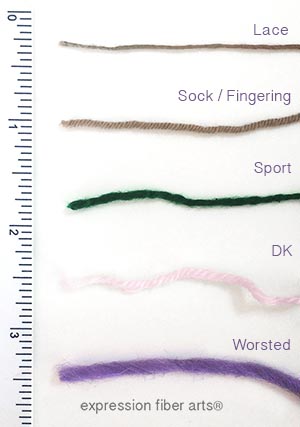 Lace Weight: Our thinnest yarns. Since they're thin, you get a ton of yardage. Most lace weight skeins range from 500-800 yards per skein. One skein will normally make an entire shawl, or a set of accessories (like a hat, mitten and scarf set).
Most of our lace yarns are either single ply or 2 ply, but some have more.
Beginners are sometimes afraid of lace weight, but there's no need to be. You can use the smaller needle sizes recommended on the label or use larger and just get a lacier look.
Sock/Fingering Weight: Usually about double the thickness of lace weight. If ideal for sock knitting, it will be labeled as sock yarn. That doesn't mean you can only make socks with it. These yarns are wonnnnderful for so many other items. Accessories of all types are really popular (shawls, scarves, cowls... hats, headbands...mittens, fingerless mitts, wristwarmers...boot toppers, leg warmers...etc), also sweaters, blankets, baby clothes, softies and many more items.
Not all fingering weight is ideal for sock knitting, though. For example, our Shimmering Cashmere Fingering (silk blended with cashmere) is a softly-spun 2-ply yarn and wouldn't hold up well for socks but is more suited for beautiful items like shawls or scarves.
Sport Weight: Sometimes called "baby" weight yarn as it's a great thickness for sweet, tiny baby items. It's thicker than sock/fingering weight but thinner than DK weight. Wonderful for accessories or garments too.
DK Weight: A bit thicker than sport weight, this base can be used for accessories and garments and many, many more items.
Worsted Weight: This is the "typical" yarn weight most beginners are familiar with. Not sure where to start in our shop? Try something in worsted weight. It's great for tons of projects and is very easy to work with.
Although not shown, we do sometimes carry aran and bulky weights.
Aran Weight: Just a wee bit thicker than worsted weight and again ideal for accessories and garments.
Chunky/Bulky Weight: A bit thicker than aran weight. Great for quick knits! In a rush and need a last minute gift? Bulky yarns are perfect for this as they're nice and thick and quick.
•Any of the yarn weights can be knitted or crocheted.
•Thinner weights can be held double or triple if you prefer thicker yarns.
PLIES:
Plies are the individual strands in the yarn. So any of the weights listed above can be single ply, 2 plies, 3 plies, etc.
You can have a single ply lace weight yarn or a worsted weight single ply yarn (like shown in the photo).
The sock weight shown is a 4 ply (4 strands twisted together).
The sport weight is a 2 ply.
The DK weight is a 4 ply.
SINGLE PLY: Single ply yarn is gorgeous and always popular as the light reflects off the smooth surface, resulting in a unique, often pearlescent look (depending on the fiber type). This is ideal for accessories or anything that won't get a lot of "rubbing." Since it's fiber that has been twisted but not plied, it can more easily loosen and ball or pill (for example, if used in areas like under the arms of a sweater where it will be rubbed a lot). (This can be used for your weft in weaving, but isn't strong enough for your warp... for warping opt for a 2 ply or preferably 3, 4 or higher ply.)
2-PLY: A bit more structure as you now have 2 strands twisted together. The plies are usually pretty visible and the yarn is a bit less smooth in appearance.
3-PLY, 4-PLY or more: The more plies you get, the less pilling you get in general. The fibers are twisted into individual strands and then twisted together so there is less chance of the fiber strands loosening. You don't get the same type of glossiness as with the single ply but you get great structure and longevity for your projects. Wonderful for sweaters and socks and mittens and other items that will get a lot of wear.
FIBERS:
We primarily sell luxury fibers, like merino wool, silk, cashmere, yak and blends.
Each fiber info is listed in the individual product descriptions, but here are the main specs you need to know:
Superwash - if any of our wools say superwash, it means the fibers have been processed so that even if you accidentally machine-wash and dry your item, it won't shrink and felt.
Cashmere - Incredibly soft and luscious to work with. A dream!
Merino - soft, beautiful wool yarn. Even if you've tried wool in the past and didn't like it, you're in for a treat with merino. It's a super fine wool with a tight crimp and produces bouncy, creamy, soft yarn with a subtle glow. Very popular!
Silk - shimmering and lustrous! The single ply silks are especially glowy. Most of the silk in our shop is mulberry silk. It keeps you warm in winter and cool in summer. You'll love it! Silks are a bit more difficult to spin so some of our 100% silk yarns will have some slubs and irregularities. This is typical for pure silk yarn.
Yak - I can't say enough good things about yak down... it's delicious in every way and you have to try it and feel it to know what I mean.
Blends - Most of our yarns are blends of various fibers, each designed to have specific qualities, which are listed in each product description.
•For all our yarn, we recommend hand-washing and laying flat to dry. You can pin your item into the desired shape if you like.
•Most of our yarn will arrive in skeins which must be wound into balls prior to use. Click here for our tutorial on winding a center-pull ball with your hands. Once you've decided you love hand-painted and other skeined luxury yarns, you'll want to invest in a swift and ball winder (google those terms for lots of buying options).
I hope this helps to clear up some of the confusion around yarn! Just remember to have fun!
Chandi